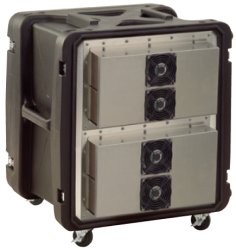 Rackmount electronics and servers can get real hot. This is a real problem for equipment running in a transit case where there's little ventilation. However, with a temperature controlled case, heat is no longer a threat. There are several cooling technologies available for prortable systems - thermoelectric units, compressor based refridgeration and fan circulations. Plus, digital control systems offer closed loop climate control with remote monitoring. Other features include...
Unmatched cooling power from 200 – 6,000 BTU/H
Effective in external temperatures up to 71°C (160°F)
Reverse operation to heat electronics in extreme cold
Select from a variety of AC and DC power configurations
The configuration of an air conditioned case depends on several factors. To make an accurate recommendation, submit a request on the right. Or, call 1.888.880.7728 to speak with a sales engineer.
More About Our Air Conditioned Cases
Air conditioned transit cases from Sierra Cases offer unmatched cooling power. Cooling and insulation options ensure temperature-sensitive equipment maintains required operating temperatures. They are available in sizes capacities rated from 200 and 6,000 BTUs per hour.
Thermoelectric Cooling Units
Thermoelectric cooling units are based on the Peltier effect. When a voltage is applied across two dissimilar conductors, a temperature differential occurs at this point. Thermoelectric air conditioning offers numerous benefits, including:
Little to no maintenance
No air exchange between the case interior and ambient air
No compressor
No refrigerants
Because there is no air exchange, cool air circulates only within the interior of the case. This technique keeps out dust, humidity and contaminates that damage electronics and other equipment.
No Ventilation Required
Air conditioned cases equipped with thermoelectric cooling components don't require exterior ventilation. This helps maintain the IP rating (International Protection Rating or Ingress Protection Rating) of the rack. The IP rating is used to communicate the level of protection against outside contaminants, such as dust. A variety of industrial applications require certain IP ratings for shipping and storage cases.
AC and DC Power Configurations
Air conditioned transit cases from Sierra Cases are available in AC and DC power configurations. This ensures your air conditioned cases are fully operational and compatible with your specific requirements.
Reverse Operation for Coping with Extreme Cold
Extreme heat can be a serious problem for electronics, but what about frigid temperatures? Sierra Cases' air conditioned cases feature reverse operation. It's possible to turn a thermoelectric cooler into a heater, preventing sensitive equipment from getting too cold.
Digital Controllers and Remote Monitoring
When sensitive supplies are shipped, they may be secured below ship decks or stacked in flight storage. That means they're not easily accessible during operation. Cases in remote locations may be difficult to access without significant effort. That's why Sierra Cases offers integrated digital controllers and remote monitoring devices. These systems offer complete control over valuable assets even when they're not directly accessible.
Cooler Collars Provide Temperature Control While Maximizing Space
Some temperature-controlled cases cool at the expense of usable interior space. At Sierra Cases, we offer options that preserve space utilization, so you can ship more materials with less cost. The Amazon Cooler Collar, a thermoelectric based air conditioner, clips onto a 19" rackmount case. It does not consume any usable, interior rack space. The collar only adds 4" to the length of the air conditioned transit case. Sierra Cases offers a multitude of air conditioned transit cases with sophisticated cooling configurations. Our cases are designed to eliminate the typical obstacles of operating temperature-sensitive electronics which can easily become damaged by extreme heat and cold. Contact us for more information on how a temperature controlled case from Sierra Cases can help you operate your most sensitive electronics without worry.

Learn more about cooling options for your case. Contact Sierra Cases today.