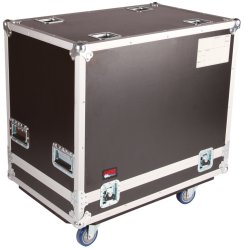 Our flight cases are fabricated to your exact specifications using only the highest quality materials. Walls are constructed from ABS panels or ABS laminated over plywood and riveted to tapered aluminum edging and steel ball corners. Tongue and groove valance extrusions are precisely machined to insure a perfect closure. Lids are secured with heavy-duty, full-length piano hinges.Our custom built flight cases meet the toughest requirements found in military, aerospace, oil and gas, automation, government, security and telecommunications applications.
Built to your exact specifications
Meets Air Transport Association (ATA) Specification 300, Category 1
Unlimited interior and size options
Construction Features:
ABS panels laminated to top quality plywood (3/8" and 1/2" thickness are standard)
Split steel rivets secures aluminum extrusion and wall material
Full length steel piano hinge or removable lid
Steel ball corners
Aluminum tongue and groove valances
Recessed steel twist latches and handles
10-32 tapped steel rack rails installed in rack mount cases
Custom Features and Options:
Wheels, casters and integrated telescopic pull-handles
Interior cavities sized for specific equipment
Custom foam inserts, partitions and cavities designed specifically to fit your gear
Foam shock mounting available for 19″ rack mount configurations
Pull-out keyboards, displays, shelves and trays
Fork lift skids
Folding ramp for unloading and loading equipment
Field workstations and console stands
Choice of colors and logos
For a quote, please submit a custom case request using the form on the right. Or, call 1.888.880.7728 to speak with a case expert.
Build a case to your exact specifications. Contact Sierra Cases today.