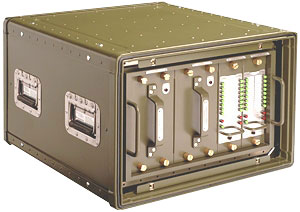 We bring our engineering expertise into every project. When an off-the-shelf case isn't the right fit, we will work with your team to design a solution that is. Our customized cases meet the toughest requirements found in military, aerospace, industrial, oil and gas, automation, government, security, and telecommunications applications. We offer custom cases in aluminum, rotationally molded polyethylene plastic, thermomolded ABS plastic, and fabricated ABS laminated plywood.
For a quote, please submit a custom case request using the form on the right. Or, call 1.888.880.7728 to speak with a case expert.
More About Custom and Modified Cases
One-size-fits-all solutions just don't work for modern enterprises and organizations. Often, the most feasible solution is a customized product designed specifically to meet the unique needs of your business. That's why Sierra Cases offers custom rack cases, custom metal cases, custom protective cases, custom storage cases, custom rackmount cases and custom shipping cases that work for our customers -- even those with the most complex needs.
Custom cases aren't as expensive as you may think. If you need a start-to-finish custom design with specific features, the costs are often affordable and well worth the investment to adequately protect your valuable equipment.
Custom Aluminum Cases
Aluminum cases are easily customized. Virtually any type of modification is available. Latches, handles, hinges, gaskets, strap loops, stay bolts and locks may be installed, substituted or removed. Choose from a variety of finishes and colors. Need to create an exact size? Unique sizes can be manufactured without significant tooling costs.  An aluminum case can be cooled with ventilation holes, louvers or air conditioning units.
IO Panels and Cabling
A case that will transport and operate electronics will need to support power, I/O and network cabling. Connector panels may be fixed mounted into the case body or hinged to allow access to internal cabling.
Built-in Air Conditioning
If temperature control is a top priority for your custom shipping cases and custom storage cases, our custom cases with built-in air conditioning are an ideal choice. These cases ensure that excessive heat won't cause devastating damage to your temperature-sensitive electronics during operation.
Because some modes of transit don't offer temperature-controlled storage areas, it's practically impossible to operate temperature-sensitive materials with confidence. Unless, of course, your custom shipping cases have their own air conditioning units.
Thermoelectric Cooler Collar
Another temperature-control option is a thermoelectric a cooler. It maintains proper temperatures while your electronics operate inside the case. These coolers are simple to install and require no maintenance. They simply mount to the exterior of your rackmount case without taking up any additional, valuable rack space.
Hinged Access Panels for Custom Cases
Need custom storage cases that are stackable for maximum space utilization, but need access to some of those supplies periodically? Another innovative customization option available through Sierra Cases is incorporating hinged access panels into your custom storage cases. That means easy side access to your equipment, without the need to unload several layers of storage cases first.
Fork Lift Skids
If your supplies are stored in a warehouse environment, fork lift skids are a valuable addition to your custom storage cases. Drastically improving usability, adding fork lift skids is a simple and affordable solution to streamline processes and ensure your supplies move quickly from one location to the next.
Special Options Meeting Military Specifications
For military applications and contractors shipping supplies for military purposes, custom shipping cases must meet stringent specifications set forth by MIL-STD-648 and MIL-STD-810. Cases may be equipped with EMI (Electromagnetic Interference) / RFI (Radio Frequency Interference) shielding, which is essential to prevent the disruption of radio frequencies when operating electronics. EMI/RFI shielding is also useful for medical applications, where the FDA requires certain precautions to prevent mobile devices from interfering with hospital equipment.
With these customization options and more, Sierra Cases offers a wide array of additions and components to create a fully functional solution that doesn't impact operations. In fact, custom storage cases and custom shipping cases from Sierra Cases incorporate precisely the features and functionality your enterprise requires to maintain compliance, ensure the safe transport and storage of your most valuable equipment of electronics while completely streamlining operations.