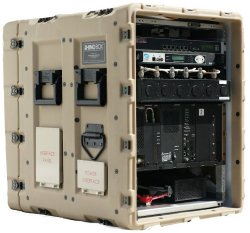 Rhino Box™ Environmentally Controlled Cases
The Rhino Box™ is an all-weather, environmentally controlled 19" rack mount enclosure designed to safely transport and operate electronic equipment in the extreme cold of the Arctic, scorching heat of the desert and the drenching humidity of the tropics.
The Rhino Box™ removes up to 1000 Watts of heat and allow equipment to operate in environmental extremes ranging from an ambient environment of 160º F (71º C), to a 93º F (34º C) tropical forest at 88% humidity, to a driving cold rain at 35º F (1.6º C), and from altitudes ranging from sea level to 10,000 feet (3048 m).
The configuration of an air conditioned case depends on several factors. To make an accurate recommendation, submit a request on the right. Or, call 1.888.880.7728 to speak with a sales engineer.
Standard Features
Durable, shock isolated case resists rain, sand, wind, shock and temperature extremes to guarantee durability and protection.
Eight independently computer controlled high-reliability 183 m3/hour high-flow fans.
Calibrated temperature sensors monitor ambient air intake, internal equipment heat rise and exhaust temperature.
Heavy duty thermal management system allows -30° F to 160°F (-34°C to 71°C) operation.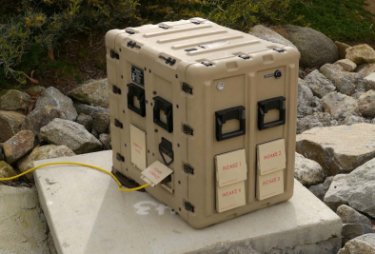 Rhino Box™ in operation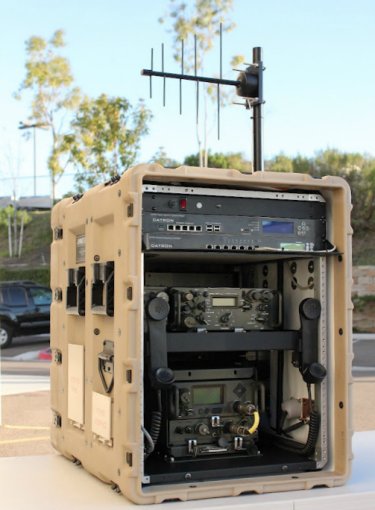 Rhino Box™, with integrated communications, is ready for deployment
Control system maintains safe internal enclosure operating temperature by reading temperature sensors and controlling fan speed based on external and internal air temperature.
Integrated remote monitoring system provides alarms, system status and control.
Aerogel insulation reflects external heat energy and helps maintain internal climate control.
GFI protected AC power system and service outlets for personal safety and equipment protection (NOTE: For AC input models only).
External USB user administration and monitoring port and client interface cable.
Redundant internal 12V DC power system.
Rugged weatherproof connectors allow customize I/O for networking, communications and power.
Available in 9U, 11U, 12U, 14U, and 19U heights.
Theory of Operation
There are several thermal management features of the Rhino Box™ that maintain a safe and reliable internal operating temperature:
The exterior is coated with a highly reflective transparent paint reflecting up to 90% of the sun's heat.
Aerogel insulation block and reflect heat transmitted through the Rhino's durable skin. Aerogel combined with reflective paint, block 97% of the sun's radiant energy.
An internal computer monitors the external and internal temperatures and controls a powerful suite of intake and exhaust fans to dynamically adjust the internal temperature.
In extreme cold (< -30º F, -34º C), the system operation is reversed and internally generated heat is recirculated to maintain a safe operating temperature.
Contact Sierra Cases to learn more about environmentally controlled racks.