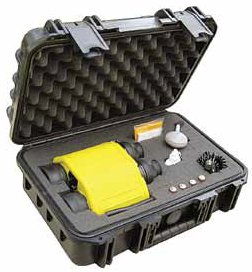 Ultimate protection of your equipment is our business. That's why we offer a variety of foam inserts to meet your cushioning requirements.
Cubed foam and foam lining
Dividers, trays and lid pockets
Custom cut inserts
For a quote or more information about case interiors, please submit a request using the form on the right. Or, call 1.888.880.7728 to speak with a case expert.
Custom Case Interiors and Foam Inserts
Proper foam packaging surrounds and supports your sensitive items during transit and storage. Its design is critical in protecting against shock and vibration.
Whatever your packaging requirement, we offer a wide selection of foam materials, densities, colors and styles. Our capabilities include design, layout and manufacturing. Our foam specialists are on hand to help select the best foam choices for your application.
Foam Filled
The case is filled with 1″ or 2″ layers of solid foam. The lid may be filled with a convoluted foam layer. The user is responsible for cutting foam cavities to fit equipment
Cubed Foam
The case is filled with 1″ or 2″ layers of scored (cubed) foam. Cubed foam can be easily plucked out by hand to create cavities for equipment. It is not as durable as other foam materials.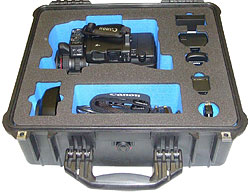 Foam Lined
The case walls and lid are lined with a single 1″ or 2″ layer of foam
Dividers
Padded dividers contain several cavities to secure a variety of objects. Dividers are offered for a limited number of cases.
Lid Pockets
Some lids may be fitted with a pocket or pouch to store literature, casters, cables, and other accessories.
Custom Insert
Working with one of our sales engineers, we will design a custom foam interior for your case based on your drawing of the foam or a drawing of your object(s). In some instances, we can send a sales engineer to your location to properly measure and fit a case for your project.
We stock polyethylene and polyurethane foam. Crosslink and anti-static foam are available upon request.
Customize your case interior. Contact Sierra Cases today.