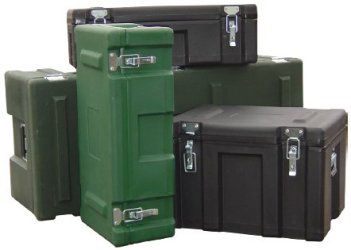 Rotational molding, or roto-molding for short, is an excellent manufacturing process for transit cases. Made from high-density polyethylene, roto-molded cases are lightweight, durable, corrosion-proof and resistant to solvents.
For custom case designs, roto-molding is a good choice. It offers flexibility; a case can be designed to meet exact size specifications. It is very cost-effective for small to medium production volumes.
For a quote, please submit a custom case request using the form on the right. Or, call 1.888.880.7728 to speak with a case expert.
Custom Rotationally Molded Cases & Services
Sierra Cases and our partners offer custom rotationally molded cases. We can customize an existing case or start a fresh design. We work with your engineers through concept, prototyping and production. Our solutions have ranged from simple case bodies for home dialysis equipment to complex cases designed to transport and deploy communication equipment.  Our services include:
Protective partitioning systems (drawers, dividers, trays, pouches, and shelves) built into the interior of the case and sized to the contents they'll protect
New sizes for a minimum order of only 150 cases.
For lower volume and when no standard case size is suitable, two cases are cut and welded into one to produce an exact size
Complete design of a rotational molded product tailor made for OEM customers
A variety of colors and accessories are available.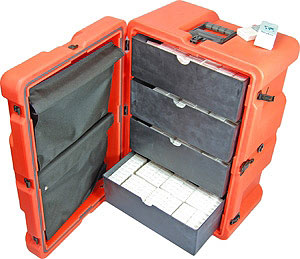 Medical case with custom storage
Save time and money on a custom case. Contact Sierra Cases today.