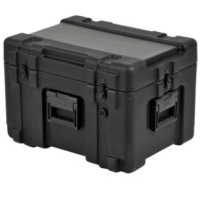 Imagine reaching your destination and finding a vital piece of equipment is missing. Perhaps it was left behind when the aircraft was unloaded in the dark. That's why ATA Specification 300 recommends using white containers for goods shipped by air.
Color is only one part of the specification. White is only required on Category I containers – those that are expected to survive at least 100 round-trips. Category I qualification entails passing a demanding series of drop or impact tests. To do that, the case must be designed and built according to the recommendations of Chapter 7 of ATA Specification 300.
Exterior construction
Specification 300 requires rigid construction and high quality, durable materials. Outer walls are made of 0.040" thick aluminum, ABS plastic, plywood or fiberglass sheet. Inner walls built from multi-layer plywood at least 1/4" thick (inner partitions are thicker). Edges are typically high-grade aluminum riveted to the walls. Steel-knuckled ball corners are used to protect corners.
Cushioning
Specification 300 also lays out requirements for interior cushioning. Cushioning must be permanently attached to the walls. It should deflect or compress no more than 60% of its thickness when the case contents are dropped from a height of 1 meter. High quality foam materials, like Esterfoam and Ethafoam, are typically used. Note that while bubble wrap and foam sheets are allowed, newspaper and loose fill materials like packing "peanuts" are not.
Handling
Cases should be easy to move. So, the specification covers handles, skids and stackability. Handles are generally recessed and spring-loaded with rubber grips. Their number and position must be related to the size and weight of the container.
Larger and heavier containers must have skids permanently attached to allow moving on pallet trucks and by fork-lifts. Wooden skids, however, may run into problems with various import/export restrictions. In addition, when the surface exceeds 0.37 meters (roughly two feet square), the container must take the weight of another container stacked on top. Stacking ball corners help with this.
Marking and identification
Complying with Specification 300 requires clear, legible and durable case markings. A lengthy appendix provides comprehensive details. It recommends that Category I containers be painted white. Recognizing that it might be an issue for companies using other colors for easy identification, this requirement can be waived with the caveat that "very dark colors should be avoided because of visibility requirements during nighttime airline operations."
Related blogs:
Understanding ATA Specifications
ATA Specification 300 and Service Life Testing