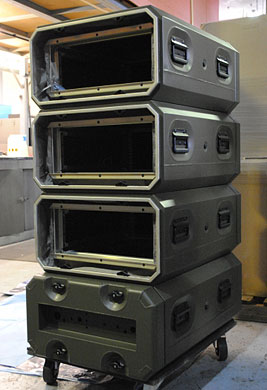 If your electronic equipment is already heavy to transport by itself, then you need options. You need a case that offers lightweight protection with strength and portability. Discover CP Cases' ERACK, the industry's lightest-weight rack mount case.

The ERACK weighs up to 30% less than other rack mount cases. Designed with a welded aluminum alloy construction, the case material is the lightest weight in the industry. The ERACK also is built with a patented new technology that reduces the weight of the case even more. By eliminating the edge extrusion around the case and replacing it with an innovative folded rim design, the ERACK loses case weight, but gains strength.
This patented folded rim design is unique in the industry. It makes the case super strong, so it can take a lot of stacked weight and absorb impacts without being damaged. In fact, you can stand on the ERACK and it won't even flex. And the folded rim also increases resistance to the elements.
More water, sand, and dust resistant than its competitors, the ERACK offers all-weather protection to IP66 standards. If electromagnetic resistance is important, the ERACK gives you the option to add superior EMC/EMI shielding. Or, if the heat of the desert is your stomping ground, the ERACK also can provide air-conditioned cooling as an internal case option for your equipment.
CP Cases' ERACK is available in six rack heights (4U to 12U) and four rack depths (19" to 34"). So, when weight, strength, and portability are critical options, the choice is clear. Contact Sierra Cases for pricing and availability on the ERACK.
Learn more about the ERACK.