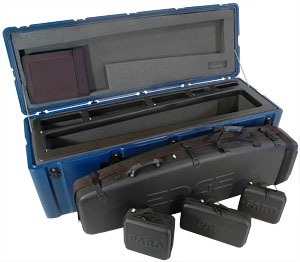 We all know the old Rolling Stones lyrics that lament, "You can't always get what you want." But thanks to a recent partnership between Sierra Cases and Gator Cases, now you can. In fact, you can get exactly what you want—best fit, best protection, and best price.
The Industrial/OEM division of Gator Cases has teamed with Sierra Cases to provide the perfect packaging solution for your precision products. The Gator team members take pride in being your design experts who can listen to your needs and create an innovative solution for you to safely transport and store your delicate equipment. Custom case options include vacuum forming, rotational molding, EVA cases, lightweight hybrid cases, sewn cases and fabricated flight cases.
Gator won't take an existing case and make it work. They craft an original case, as opposed to modifying existing cases. The Gator staff includes on-site industrial engineers who will work with their design team to bring your product packaging needs and ideas to life.
Additionally, they can build a custom case in large volume as cheaply—or, sometimes, even more cheaply—than you could buy a standard, in-stock case from another manufacturer.
The best part of a customized case from Gator Cases is that you can private label it by adding special features like logos and specific colors for your own branding purposes. In other words, you can make it be exactly what you want. For best fit, best protection, and best value, contact Sierra Cases for more information.