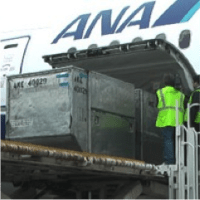 Late in 2012 it was reported that American Airlines was replacing its paper flight manuals with iPads. No doubt, iPads are sleeker and take up less space. But, the switch was justified by weight reduction.
Weight is very important to airlines. More fuel is required to move each additional pound through the air. It is one reason they pay close attention to what goes in the hold.
Standardizing air transport packaging
If you're sending delicate or high value items by air, it's important to understand what requirements airlines have for the packaging and containers you use. These requirements are defined by the Air Transport Association of America (ATA). It is the trade organization representing US airlines. Recently, ATA was rebranded as "Airlines for America" (A4A). Its purpose is to "foster a business and regulatory environment that ensures safe and secure air transportation and enables U.S. airlines to flourish".
To this end, ATA created a series of standards or "Specifications", which have been widely adopted by the air transport industry. "ATA Specification 300: Specification for Packaging of Airline Supplies" sounds as though it addresses wrappers for the in-flight peanuts. But, its purpose is far more serious. Applying to anything moved by air, this document provides a standardized approach to the design and construction of the transit container employed.
The details
The specification lists six reasons or advantages for adopting a standardized approach.
Provide sufficient protection with a minimum of tare weight and cube consistent with optimum packaging versatility.
Ensure proper identification of material and containers.
Eliminate shipping damage due to packaging.
Reduce packing and unpacking costs.
Promote environmentally conscious packaging.
Accommodate security features to expose unauthorized access during shipment
Unlike some document standards, Specification 300 makes unambiguous recommendations for packaging. Individual sections cover packaging of hazardous materials, electrostatic discharge-sensitive devices, and kits. Specification 300 also details requirements for various general purpose shipping containers, referred to as Category I, II and III. Two appendices address marking and testing of these containers.
Ship it right
When you need to send delicate equipment by air, it's important to protect it well. But, it's also important to keep down the weight of the case or container. These objectives can be achieved by following the recommendations in ATA Specification 300.
Sources:
How Can Airlines Reduce Fuel Costs?
American Airlines first to get FAA approval to use iPads
Sierra Cases offers a large selection of flight cases meeting ATA Specification 300. Click here to learn more.