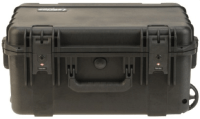 Roughly two thirds of fliers drop off a bag at the check-in desk. A few hours later, some of them will find a note inside from the Transportation Security Administration (TSA) explaining why it was necessary to examine the contents. This will happen even if the bag was locked. The TSA is very serious about keeping travelers safe, and they won't let a lock stop them from doing their job: If it's in the way, it will be cut off or pried open.
Can you avoid checking it?
Carrying a bag on-board avoids this intrusion, but often it's not an option. Airlines restrict carry-ons to approximately 22″ x 14″ x 9″, and with many flights full there simply isn't enough room in the overhead bins. And what does the traveler with two large bags do? One at least must be checked.
Give the TSA the key?
The solution to this dilemma is simple: Use a lock that the TSA can open. The same size and shape as any conventional lock, these have special markings identifying them to the TSA. If a bag secured with one of these locks needs to be opened, the TSA officer can do so with a special key. And as a bonus, the bag will be locked again after inspection!
These special locks are branded as "Safe Skies" and "Travel Sentry". Both have clear markings to identify them as TSA-approved, and these can be seen on the TSA website. These usually work well for rolling bags and duffels. For transit cases though there are two options; a combination padlock or replacement latches with TSA locks.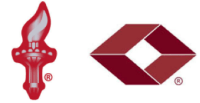 TSA locks for transit cases
Sierra Cases offer a combination style padlock that fits many cases. This may be sufficient, but a tidier alternative is to replace the standard case latches with latches incorporating TSA-approved locks. This eliminates the risk of losing the padlock or locks, ensures the case always has a TSA-approved lock, and reduces the number of keys to carry.
Keep valuables secure when flying
When flying, it's sometimes impossible to avoid checking-in a bag. If that bag or case contains delicate or high-value equipment you'll want to keep it locked, yet the TSA may need to get inside to check the contents. Using a lock clearly identified as TSA-Approved lets them perform their essential duties while keeping your items secure.
Sources: Checked bags per customer: https://www.airlines.org/dataset/a4a-presentation-industry-review-and-outlook/