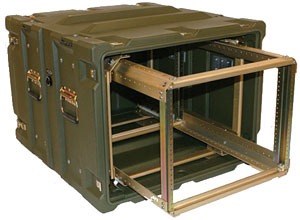 The old days: To service, maintain, and inspect your rack mount case of highly specialized, sensitive equipment, you had to hassle with removing the equipment from its safe environment in the rack. This option offered little convenience.
The new days: Zero hassle. Simply slide the rack mount frame out of the case to quickly and easily access your equipment. No need to unbolt the equipment from the vertical mounting rails within the case.
Combine this convenience with exceptional strength in the ZERO Warrior™ Removable Rack. ZERO Manufacturing's real product is protection—ensuring the safe transport of valuable equipment and electronics without compromise.
ZERO's extensive knowledge and experience in engineering transit and storage technology makes the manufacturer the ideal fit for defense, aerospace, industrial, medical, electronics and telecommunication applications. The Warrior line represents the ultimate in total packaging capability at a very affordable price.
The Warrior Removable Rack is a double-entry case that is rotationally molded and engineered to protect the most sensitive equipment and instrumentation. Warrior cases meet the rigors of virtually all conditions, including extreme temperatures, altitude, shock, vibration, weather, sand and dust. They are also corrosion proof and resistant to industrial chemicals, solvents and acids.
Warrior Removable Rack cases are available in five rack heights (4U to 8U), four rack depths (18" to 27"), fourteen colors and many other options. For top strength and top convenience with no hassle, contact Sierra Cases for pricing and availability on the ZERO Warrior Removable Rack.
Learn more about the ZERO Manufacturing's Warrior with Removable Rack here.